Regular price
Rs. 1,098.00
Sale price
Rs. 1,098.00
Regular price
Rs. 2,000.00
Unit price
/
per
Sale
Sold out
Shipping & Returns

Free shipping and returns available on all orders!
We ship all US domestic orders within 5-10 business days!
Share
View full details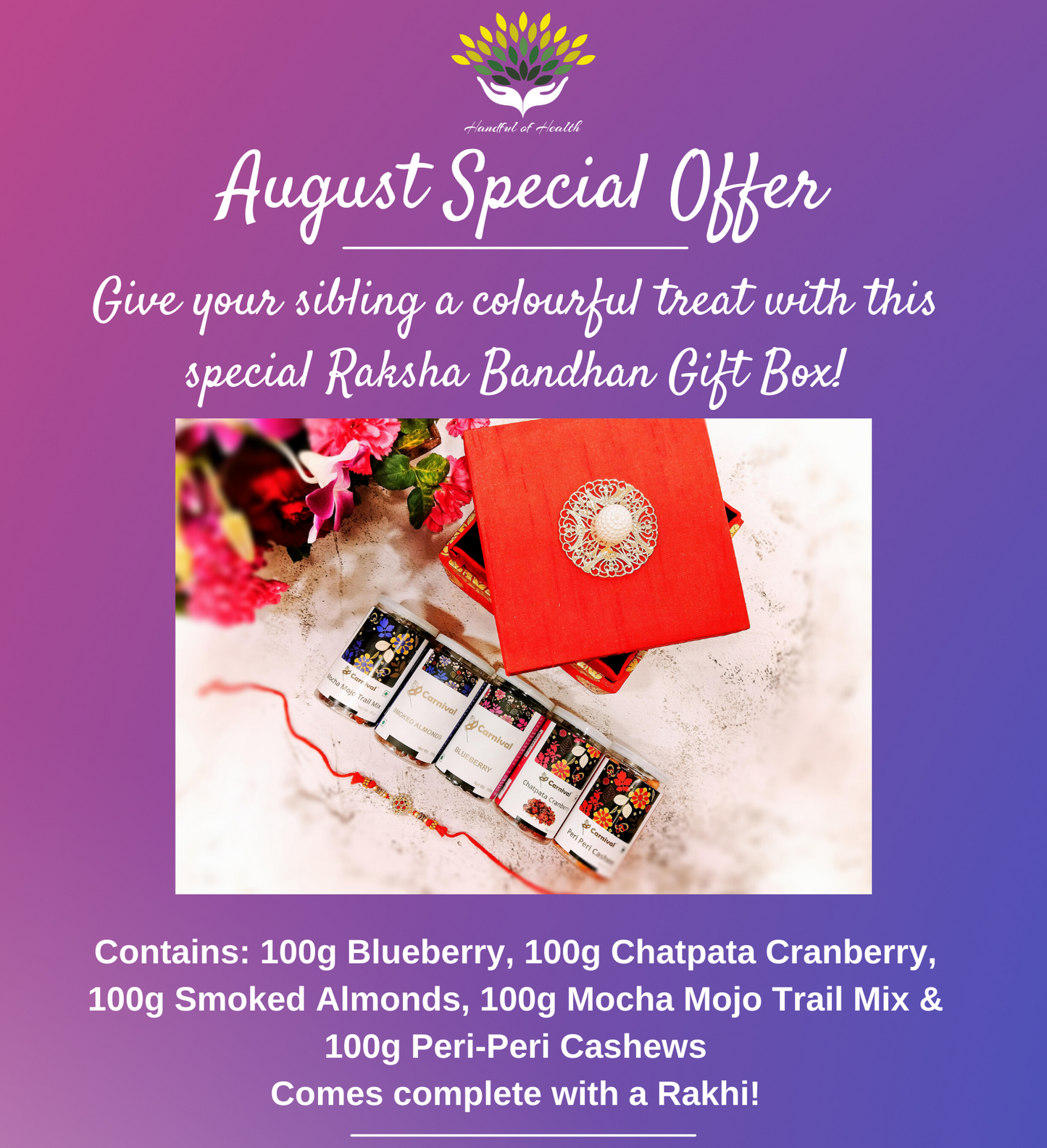 Introducing our exclusive Raksha Bandhan Gift Box, a delightful assortment of premium snacks and a complimentary Rakhi. This thoughtfully curated gift is perfect for celebrating the special bond between siblings. Each item in the box has been carefully selected to provide a unique and flavorful snacking experience. Here's a detailed description of the products included:
Mocha Mojo Trail Mix: Indulge in the rich flavors of our Mocha Mojo Trail Mix. This delightful blend features a mix of roasted nuts, dark chocolate chunks, coffee-infused raisins, and crispy granola clusters. It's a perfect balance of sweet and savory, making it a true treat for your taste buds.

Chatpata Dried Cranberry: Get ready to experience a burst of tangy and spicy flavors with our Chatpata Dried Cranberries. These dried cranberries are generously coated with a savory and zesty spice blend, creating a unique snacking sensation. They are the perfect blend of sweet, tart, and spicy, providing a delightful twist to your snacking routine.

Dried Blueberry: Enjoy the natural sweetness and intense flavor of our Dried Blueberries. These plump and juicy blueberries have been carefully dried to preserve their nutritional value and enhance their taste. Packed with antioxidants, fiber, and vitamins, they make for a wholesome and delicious snack.

Peri Peri Cashew: Spice up your snacking game with our Peri Peri Cashews. These premium cashews are coated in a fiery Peri Peri seasoning, which adds a bold and tangy flavor to every bite. The crunchy texture combined with the spicy kick will leave you wanting more.

Smoked Almond: Experience the smoky goodness of our Smoked Almonds. These high-quality almonds have been delicately smoked to infuse them with a rich and distinctive flavor. With their crunchy texture and savory taste, they are an excellent choice for a satisfying and healthy snack. Our Raksha Bandhan Gift Box is not only a treat for the taste buds but also a gesture of love and appreciation. Share this special gift with your sibling and make your Raksha Bandhan celebration truly memorable.