Sale price
Rs. 399.00
Regular price
Unit price
/
per
Sale
Sold out
Shipping & Returns

Free shipping and returns available on all orders!
We ship all US domestic orders within 5-10 business days!
Share
View full details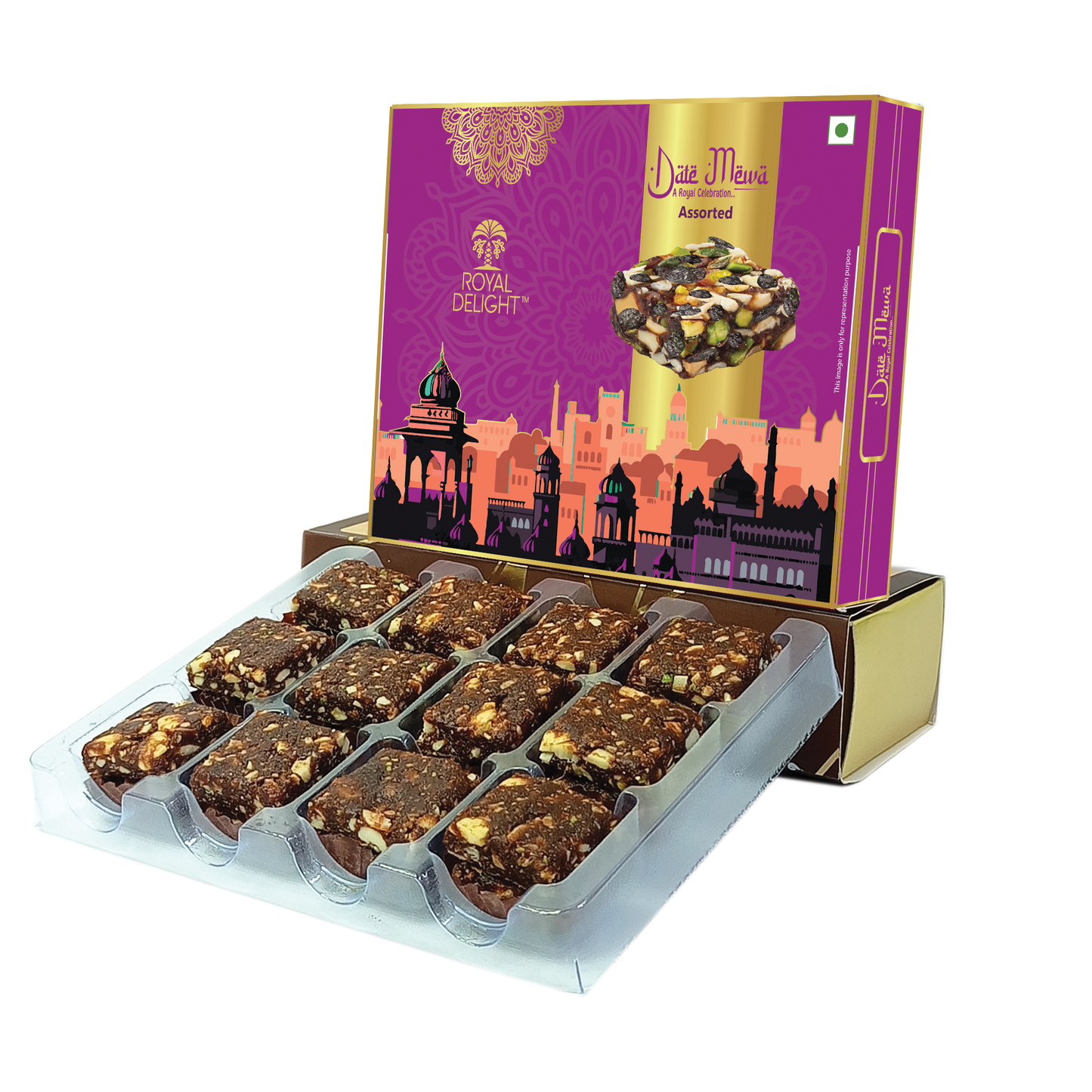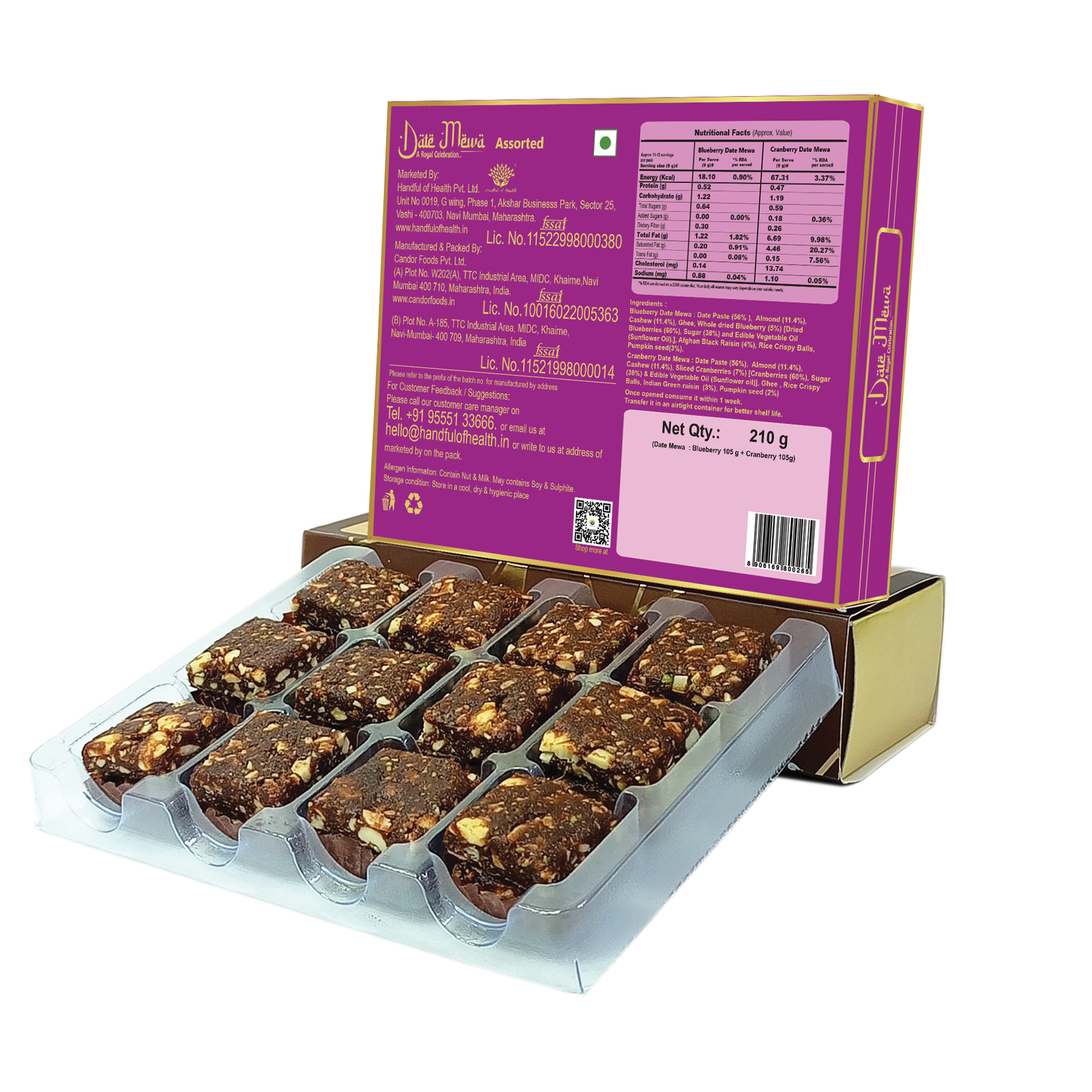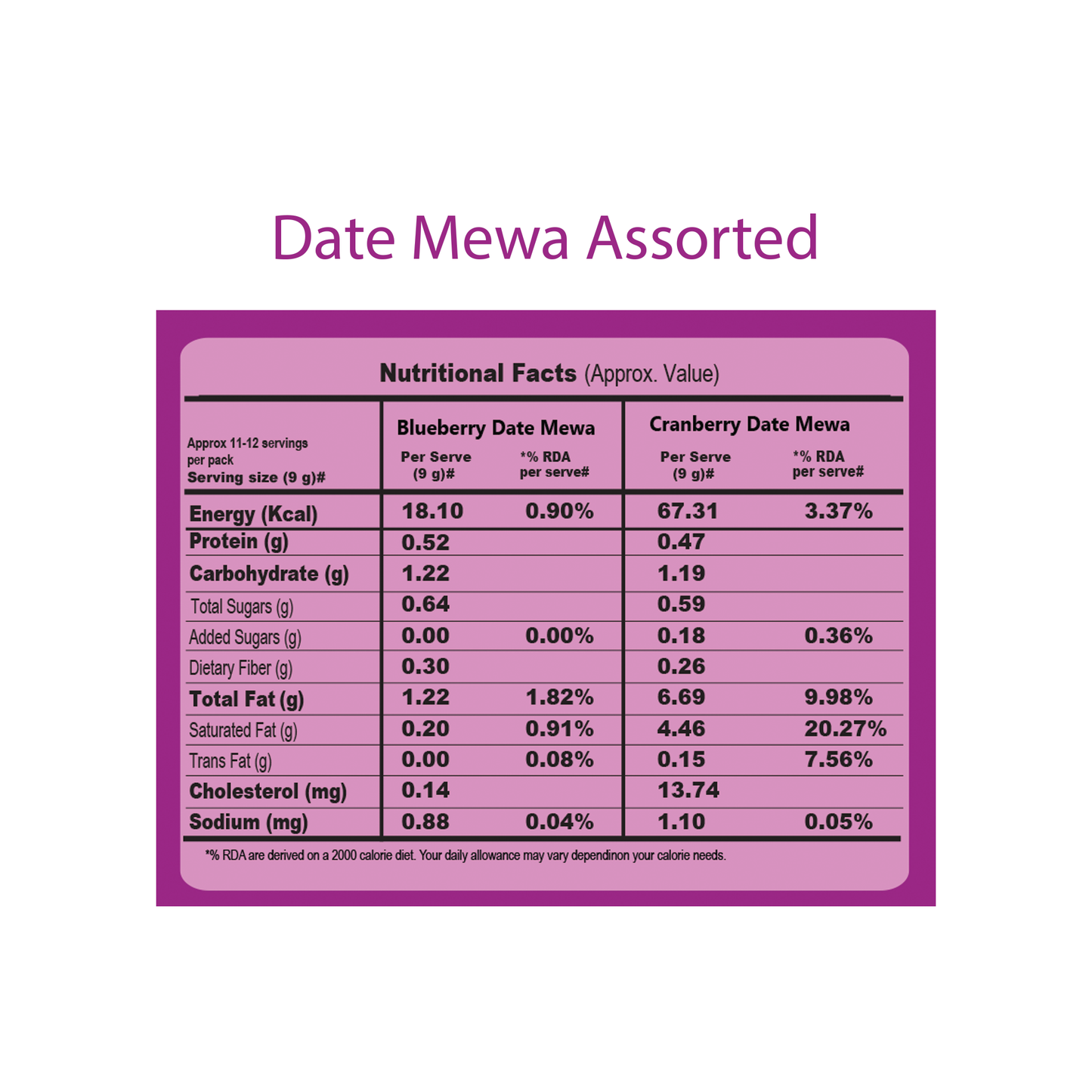 Celebration Gift Box with delicious Khajoor Mewa with Blueberry and Cranberry.
Khajoor Mewa is a popular and delicious Indian snack or dessert that combines two key ingredients: khajoor (dates) and mewa (dry fruits or nuts). This delightful treat is known for its natural sweetness and rich texture, making it a favorite among people of all ages.
Description:
Indulge in the perfect blend of nature's sweetness and wholesome goodness with our Khajoor Mewa. This exquisite snack brings together the finest quality khajoor (dates) and mewa (dry fruits) to create a delightful culinary experience that is both healthy and satisfying.
 Premium Quality Ingredients: We source the finest and freshest dates and dry fruits to ensure a top-notch product.
 Natural Sweetness: Khajoor (dates) are renowned for their natural sweetness, making Khajoor Mewa a healthier alternative to processed sugary snacks.
 Rich in Nutrients: Mewa (dry fruits) are packed with essential nutrients, including vitamins, minerals, and healthy fats, providing a quick energy boost and promoting overall well-being.
 No Added Preservatives: Our Khajoor Mewa is free from artificial preservatives or additives, ensuring a pure and wholesome treat.
 Versatile Snack: Enjoy Khajoor Mewa as a standalone snack, add it to your morning cereal or yogurt, or use it as an ingredient in various desserts and recipes.
 Khajoor Mewa boasts a delightful combination of sweet, chewy dates and the satisfying crunch of assorted dry fruits. Each bite is a harmonious blend of natural flavors, with the sweetness of dates complemented by the nutty richness of almonds, cashews, and other dry fruits.
 Health Benefits:
Provides a quick source of natural energy.
Rich in dietary fiber for improved digestion.
Supplies essential vitamins and minerals for overall health.
A guilt-free, nutritious snack option.
Packaging:
Our Khajoor Mewa with blueberry and cranberry is carefully packaged to maintain freshness and quality. It is available in various sizes, from convenient snack packs to larger family-sized portions.
 Storage Instructions:
To ensure the best quality and taste, store Khajoor Mewa in a cool, dry place, away from direct sunlight.
 Ideal Occasions:
Khajoor Mewa is a versatile snack that can be enjoyed on various occasions:
 As a healthy snack for school or work.
A delightful addition to festive celebrations and special occasions.
A thoughtful gift for loved ones, conveying both sweetness and good health.
Savor the natural sweetness and wholesomeness of Khajoor Mewa, and make it a part of your daily snacking routine or special moments with friends and family. Experience the perfect balance of taste and nutrition in every bite.